Hello, welcome to Cameleon Records, a division of VinylVidiVici Rds, whose goal is to reissue previously published LPs or unreleased tracks, but not found or too expensive. Punk, hard, garage, new wave, soul, folk .... just listen dominant in the choice.
in french

SOLD OUT
CAME76 KAMERAS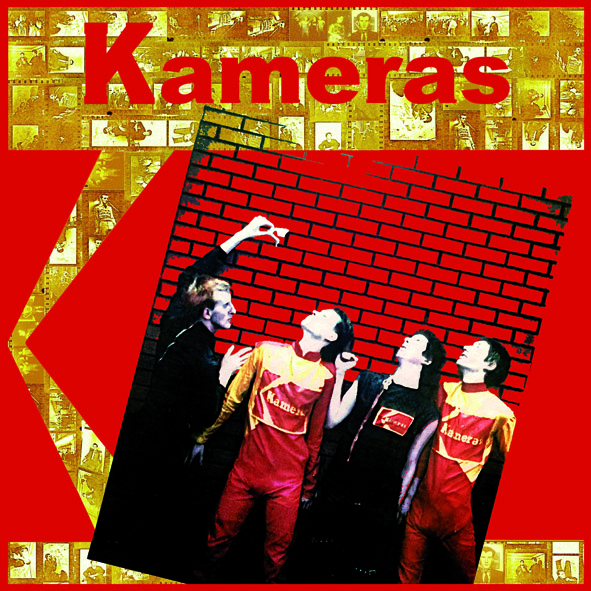 Philippe Siegfried called me one day in February to announce that he had unpublished titles of his group PANORAMAS (One unreleased track on Thésaurus Volume 4). It was Emmanuelle Jean-Luc Taccard's wife (LUCAS TROUBLE, TANGO LÜGER ...) who passed my contact, I told him that I was looking for unpublished titles for the label. Once at Philippe's, and after listening to a tape, only one song pleased me. We began to discuss his career as a musician, his knowledge: a lot of connection with many groups that Cameleon has already edited or who is preparing. "By the way Philippe, what were you doing in England before the Panoramas?" . To my question, he replied that he squatted on the right and left with friends, and that he had played with some groups. "Do you have traces, records of this period?" He tells me he has a CD compilation with a KAMERAS track. After listening I find "Artificial Joy" excellent, I ask him if he has other titles of this group. His answer was that he got up, took a small suitcase, opened it and I saw an aluminum cassette. "This is the demo tape of MONOCHROME SET with whom I squatted, and that's two cassettes with unpublished tracks KAMERAS". When he put the cassette and the sound came out, I jumped. The rest is Philippe who tells it to you. (Le Cameleon 2019)
In the spring of 1978, i got off the train at London's Victoria Station with my Telecaster under my arm, hoping to find here more authenticity and also better musicians than in Paris. I had grown disillusioned with the local Punk music scene, too much attitude, not enough good music... I had started playing guitar a few years before at 15, in 1973, after hearing "Hot Love" by T-Rex, i liked Slade too, even saw them on stage that year in Paris... Later, I got an old Gibson SG Junior, and started playing with local suburban bands around Paris, we did mainly covers of Lou Reed, Bowie, Stones, Steppenwolf, Blue Oyster Cult, amongst others, and impros that lasted as long as we could find inspiration... In 76, I joined a Paris band called first La Saga Des Barjots, then Dallas Gang (one track on the Crypto compilation "Le Rock d'Ici Volume 2" released in 1978), fronted by a rich kid from a family who owned the liquor brand Vodka Wiborova... We played only 50's rock'n roll, songs by Chuck Berry, Little Richard, Eddy Cochran, Bo Diddley or Buddy Holly, even some BB King, i learned quite a lot about the electric guitar, riffs and solos, playing that early 50's rock stuff. Then punk came...
In early 77, I took my mum to London for a long weekend to ease her mind, since she was in the middle of a long divorce... I stayed a few days more after she returned to Paris, and one night i went to the Marquee to see a band called Alberto Y Lost Trios Paranoias : for the encore a crazy guy with cropped yellow hair and pink toy glasses went up on stage to join them, it was Captain Sensible. At the end of the gig, in front of the Marquee, a group of punks were selling copies of Sniffing Glue, a punk/photocopy fanzine, I bought one, I still have it... I returned to London a few weeks later, and bought in a Camden record shop "Anarchy In The UK " by the Sex Pistols, as well as the first singles by the Stranglers and the Damned...
-

The next day, I saw in the NME, New Musical Express, that this mysterious band, the Damned, were playing in a club called the Roxy, in the West End, in Neal Street if i remember well... I went with a couple of Paris friends, and inside the atmosphere was mad ! We still had long hair but we were wearing leather jackets and jeans, kind of MC5 look, most of the people, boys and girls were dressed in torn out jackets and shirts, some with black ties, but adorned with lots of safety pins, badges and painted slogans, some girls had no pants or skirts, just panties and ripped stockings ! The support band was Johnny Moped, they couldn't really play, a very loud mess, but the audience didn't seem to mind... Then came the Damned : the sound was even louder, the singer looked like an extra from a vampire Z movie, the guitarist sounded like he just came out from a "Raw Power" session with Iggy, Captain Sensible looked demented, and the drummer, a kind of malevolent looking red hair cockney, set fire to his cymbals at the end of the gig... The music was the most violent, awesome sound i had ever heard live, the punks at the front of the stage were spitting, jumping up and down, the pogo, was this dance called, and they also did at times some kind of slow motion mock fights... At the end of the show, since the Roxy was underground, we had to walk up a flight of stairs, at the top, sitting with other early punks, giggling, was Shane Mc Gowan, who would later become the singer of the Pogues.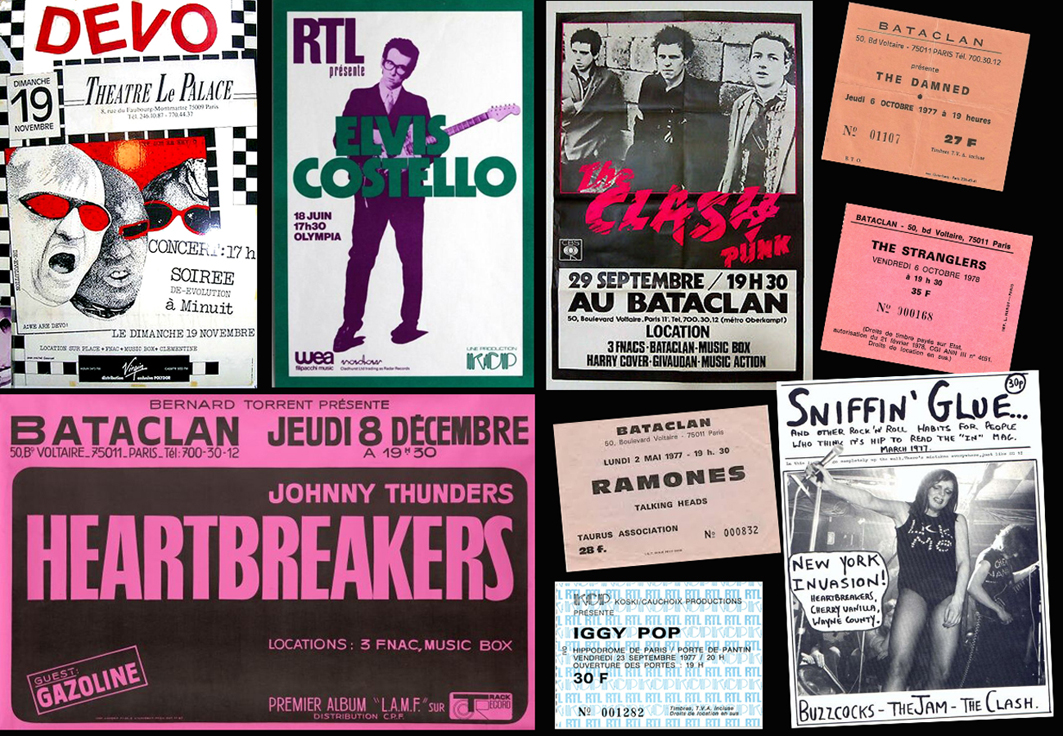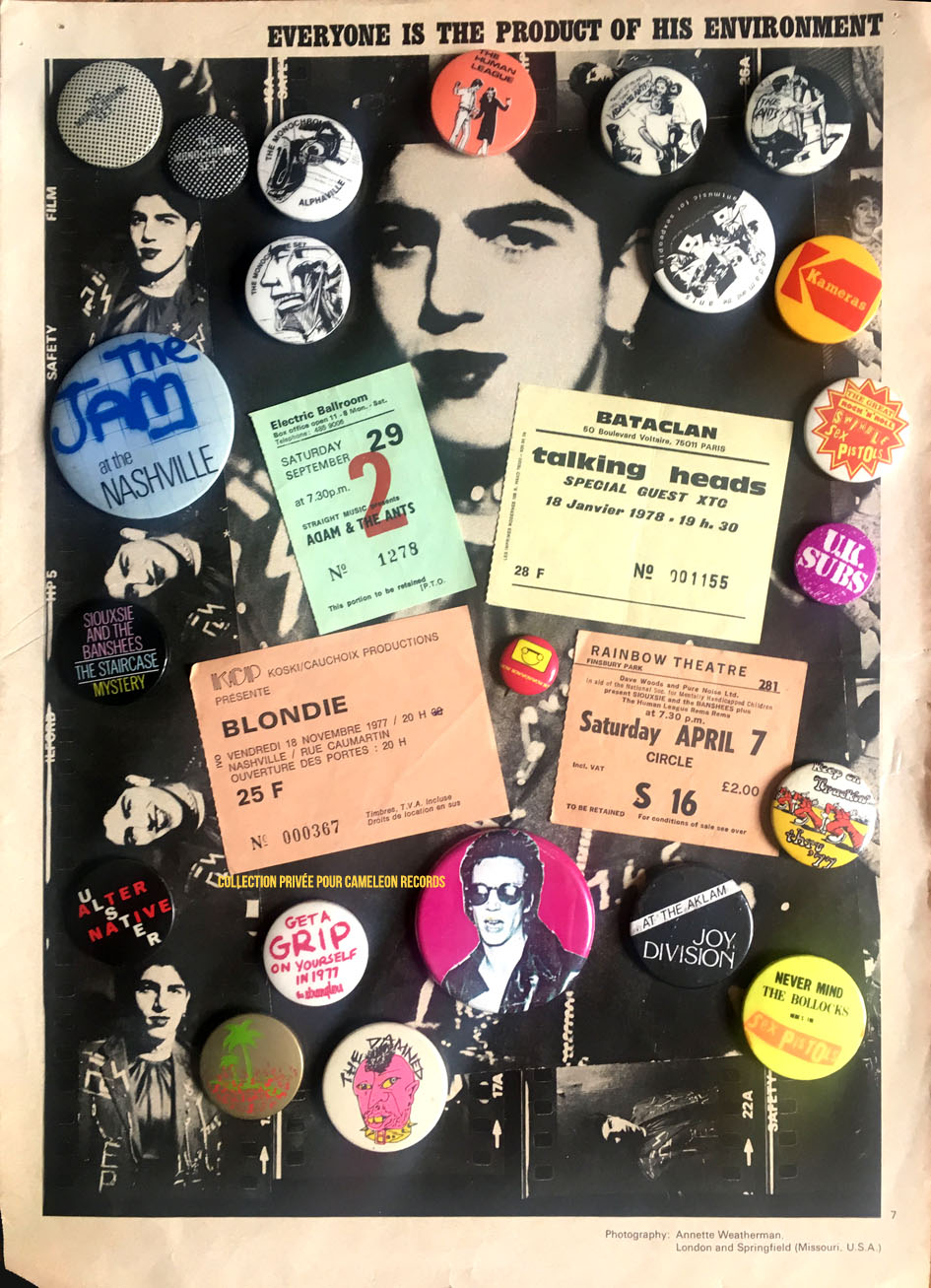 I returned again to London, for Easter holidays, in april i guess, had my hair cut in the fashion of Paul Simenon from the Clash and returned to the Roxy to see Generation X with Penetration/Pauline Murray as support. Back in Paris, i went to see all the punk gigs i could, the " Nuit Punk ", the Punk night, on 28 march at the Palais des Glaces at Republique, Faubourg du Temple, with Cherry Vanilla, Wayne County (4 tracks edited by Cameleon, see here), the Jam, Stinky Toys and Generation X. I also saw The Clash/Subway Sect in the same place, and at the Bataclan Johnny Thunders and The Heartbreakers, the Stranglers, Clash again, and the Talking Heads. I also remember Iggy Pop at the Hippodrome de Paris, Suicide/Elvis Costello and Television at the Olympia. Then i was called by the French Army in early 78 to do my military service. For reasons that would be too long to explain, they declared me unfit for service after three weeks in the Navy, so i decided to leave France, board a ferry to cross the Channel and take my chances, and my Telecaster to London...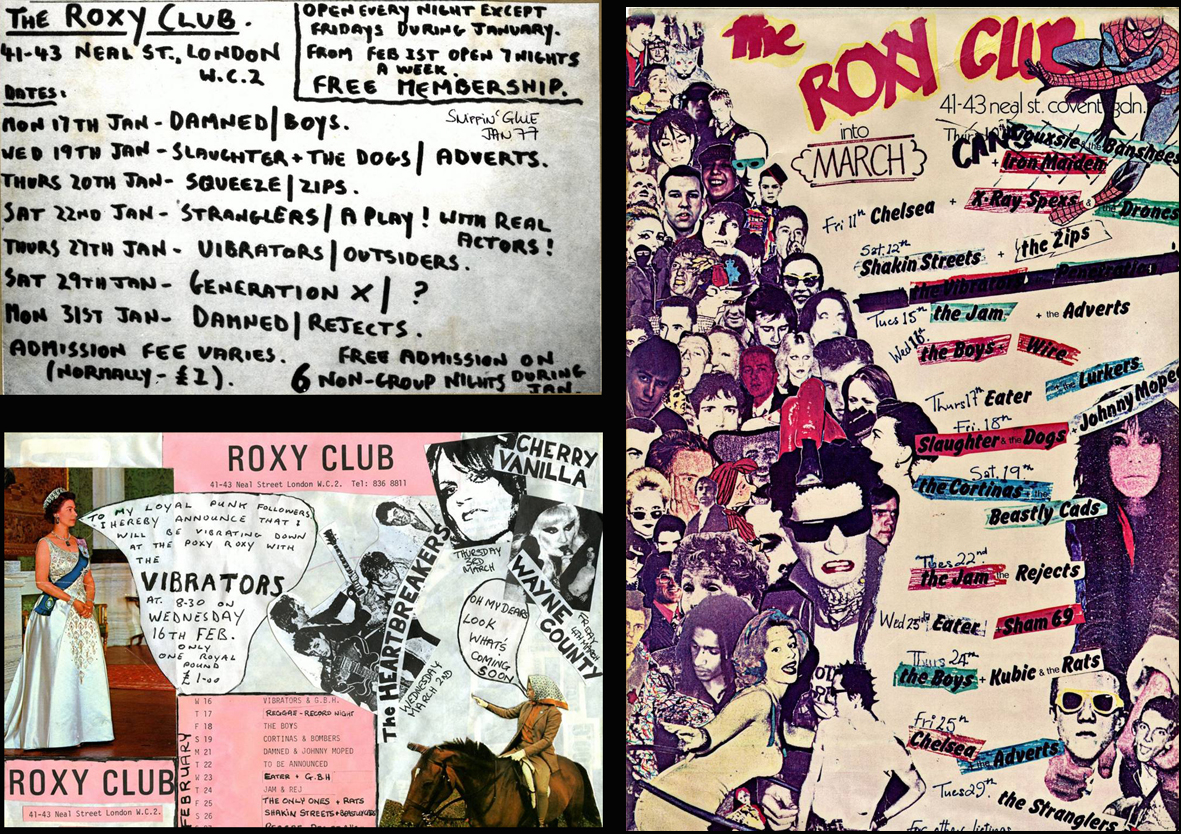 In London, spring of 78, through French friends who had stayed there before, i found a place to live in a squat south of Clapham Common, precisely on Silverthorne Road. I stayed first with an Irish couple, in a block of streets with houses occupied only by squatters. But I had to move because the Irish guy was in love with the same beautiful Jamaican girl as I, called Dyke, who I used to date and sleep with in the house, so we had a big fight... But I quickly found another room in a squat round the corner where all the guys were musicians ! They had even installed a basement for rehearsals. There was amplifiers laying about and drums too. But they told me i could only use one old bass amp to play guitar, because the rest of the gear belonged to a band that payed a regular sum to rehearse here. It was fine by me, I could play as loud as i wanted almost day and night, I mean those guys either worked or spent their evenings drinking in locals pubs, I could have the place all for myself to make as much noise as I wanted, no stupid neighbours... By chance, the band in question happened to be the Monochrome Set. In the summer of 78, they were just starting, rehearsing 3 times a week in our basement. Since my room was just above the basement, after a while I started to really like their music, and as I played guitar, the style of their guitarist, Lester Square, imagine a kind of punk Hank Marvin/Shadows, made me think that I had to know them, since I had always loved those 50's sounding echo/reverb guitar sounds. So one night, at the end of their rehearsal, I went down to meet them. We got on well, we talked about music and guitars, and we became kind of friends. I got to know them more personally, a French girl i knew, Claudie, became the girlfriend of Lester, and i met this very fine man, their manager, Paul Humphries, we drank at the same pub, the North Pole, south of Clapham Common. Since they had to return to our squat on Silverthorne Road after every gig to store their drums, guitars and amps, when they played around London, not always, but often, i would go to watch their gigs, and help them afterwards to carry their gear, so they would drive me back...
A few months later, Paul Humphries, their manager told me one night in the North Pole of a band he knew, the Kameras, who needed a guitarist, since their last one, Matthew Ashman, had left to join Adam And The Ants. He arranged for a meeting with their singer, Joe Kelly, and i went to meet him where he lived in West Hampstead. I liked his songs, his voice and looks, he had pink hair at the time, and he liked my playing... That's how it all started. On his songs, like "Anger Baboo" or "Artificial Joy" for instance, he would bring rough ideas/guitar chords and lyrics, and i would add intros, riffs, solos and generally build with him the song into a proper, final shape. For my songs, like "Return Of The Ice Age", "Melancholy", "20 Floors Up", i would bring the music, chords, riffs and solos, plus some lyrics ideas and Joe would put words on the music that fitted his voice. My guitar sound was just a 70's Fender Telecaster through a 60's Vox AC30 amplifier which i pushed to the max. As an effect, only an Electric Mistress Flanger/Filter. Joe had a friend who knew electronics and had built him a homemade analog delay/pitch shifter that we used for strange/bubbly sounds and also as some kind of early vocoder, we used it for the backing vocals i sang on songs as Artificial Joy or Homosexual for instance. We rehearsed and recorded demos at Alaska Studios in Waterloo all through 79, a place that was run by a guy who used to play with the early punk band The Vibrators, i think his name was Pat Collier, if my memory serves me well... It was the place where we tried all our ideas for songs, Joe and I, to see whether it worked or not with the rhythm section. The good thing with Alaska, beside the fact that you had a great space for rehearsing, had to deal with a crazy Scottish guy who once actually tried to really strangle me because i complained that he had let another band use my Vox AC30, and that you would sometimes meet Billy Idol who rehearsed in the same place, was that they possessed a very good quality 8 tracks tape recorder from the early 70's coupled with great quality microphones. Many titles have been recorded, which is where most vinyl tracks come from, collected on audiocassettes.
The Kameras were, on bass Jasper Stainthorpe, on drums Alan Kasket, Joe Kelly on vocals and me, Philippe Siegfried on guitars. We played many gigs in and around London, sometimes in local music pubs i cannot remember the name, but amongst others, more famous, The Electric Ballroom in Camden with the Psychedelic Furs, The Rock Garden in Covent Garden or the Moonlight Club in West Hampstead, where we recorded live my song " The Return Of The Ice Age " for the compilation album "The Moonlight Tapes" for Danceville Records. On this LP appears live, besides the Kameras, the Members and the Passions, under their real names, and the Damned under the name of School Bullies.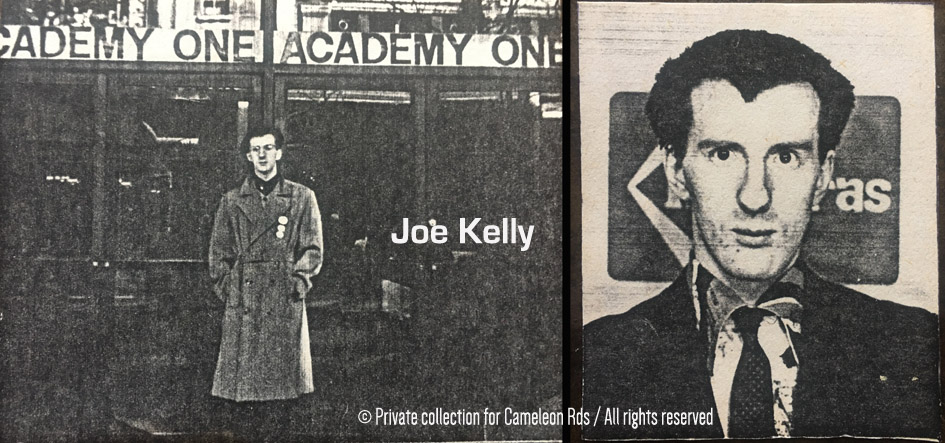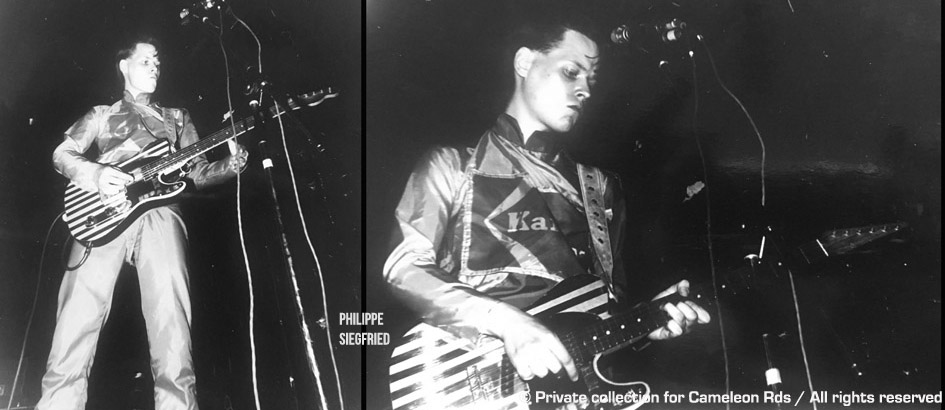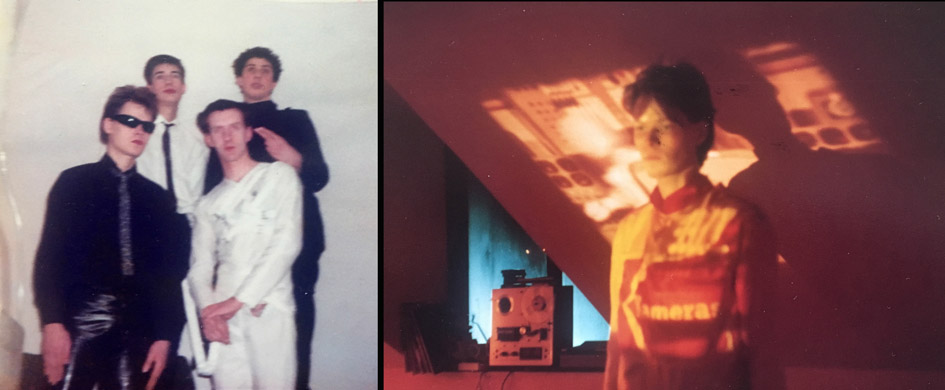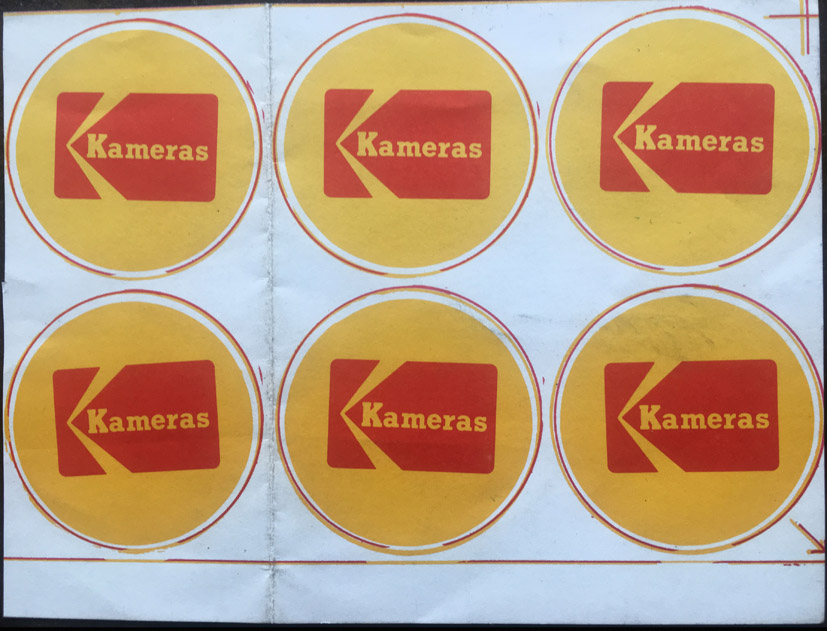 Of course, London at this time was a fabulous place to see great bands on stage. With Joe Kelly, we often went out at night to see gigs around town. I remember Joy Division at the Hope And Anchor, Siouxsie And The Banshees at the Rainbow, Clash at the Lyceum, The Human League at the Nashville, The Cramps later in the same place, Throbbing Gristle and The Normal at the Cryptic Club and of course many gigs in various venues by the Monochrome Set and Adam And The Ants, to see our friend Matthew Ashman, their guitarist, who was still living in the same house as Joe in West Hampstead. Malcolm Mc Laren, at that time ex-manager of the Sex Pistols, would come to the house sometimes, to meet Adam and his band members, he was planning to manage them, and one night, as he was leaving, we took the Tube together, he was living around South Clapham. Our conversation during the rather long underground ride was about the only French band he knew, Taxi Girl, and my idea for a future musical concept, electronic rockabilly... We didn't talk about the Kameras, i mean we were such a young band on the London scene, and obviously his mind was on other things...
Like all new and upcoming bands in London, the Kameras were trying to find a record deal, but no record company seemed to show any interest in us, despite a few good reviews in the music press. Funnily, one night as i was hitchiking back home along Hyde Park, a big white Bentley pulled up, i got in, and as i later discovered, the man behind the wheel was a famous English producer called Jonathan King, who had a big hit in the mid-70's singing a cover of the Rolling Stones song " I Can't Get No Satisfaction ". He drove me home in South Clapham and left me his card, since he was also an A&R man for the record company Decca. I called him later on and went to see him at his flat in Chelsea, but although he said he liked our music, he also liked me a lot, so he kept repeating, but the kind of "satisfaction" he was hoping to enjoy with me was not to my taste, so unfortunately we never got signed by Decca... Eventually, in the summer of 79, we got signed by an Irish label from Belfast, Good Vibrations, and we recorded a single at Regent Sound, in the West End, a studio where the Stones and Hendrix had recorded in the 60's... Sound was great, but the single " Artificial Joy/Melancholy " was never released due to financial problems... Joe Kelly got fed up, he went back to Manchester, and suddenly the Kameras were just lost in rock history...Until now...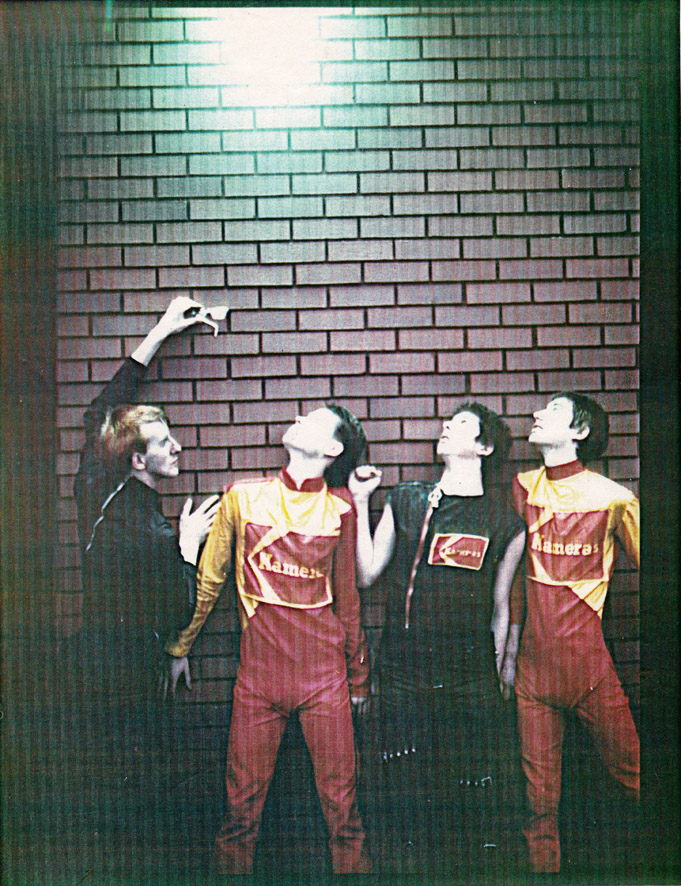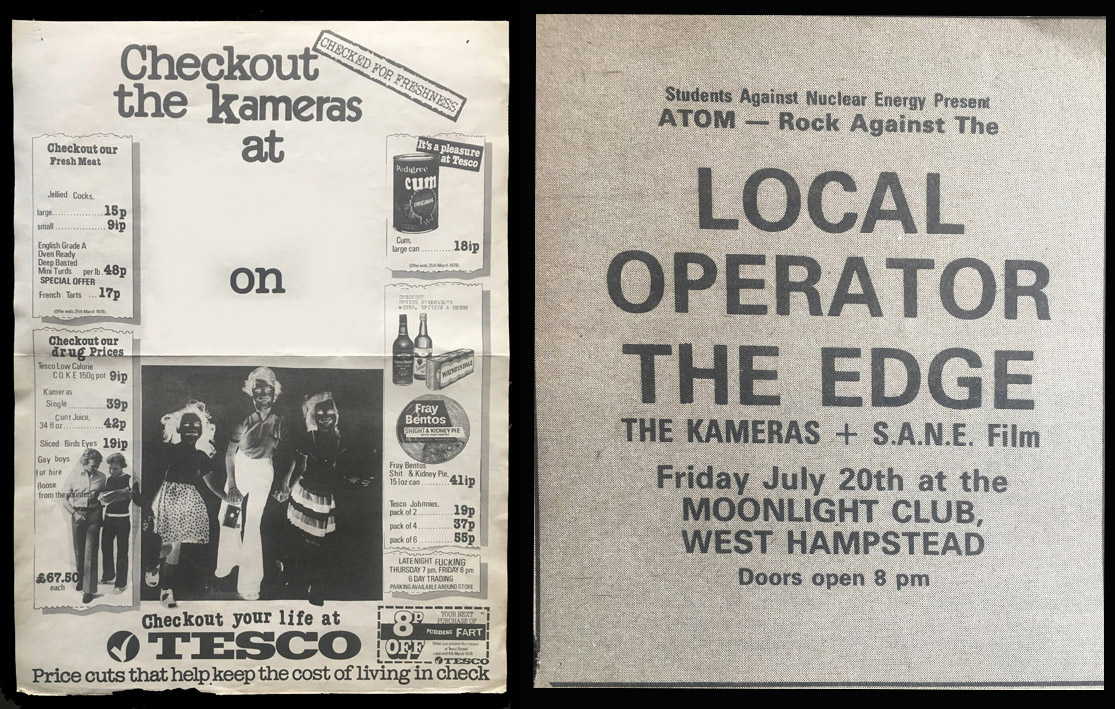 `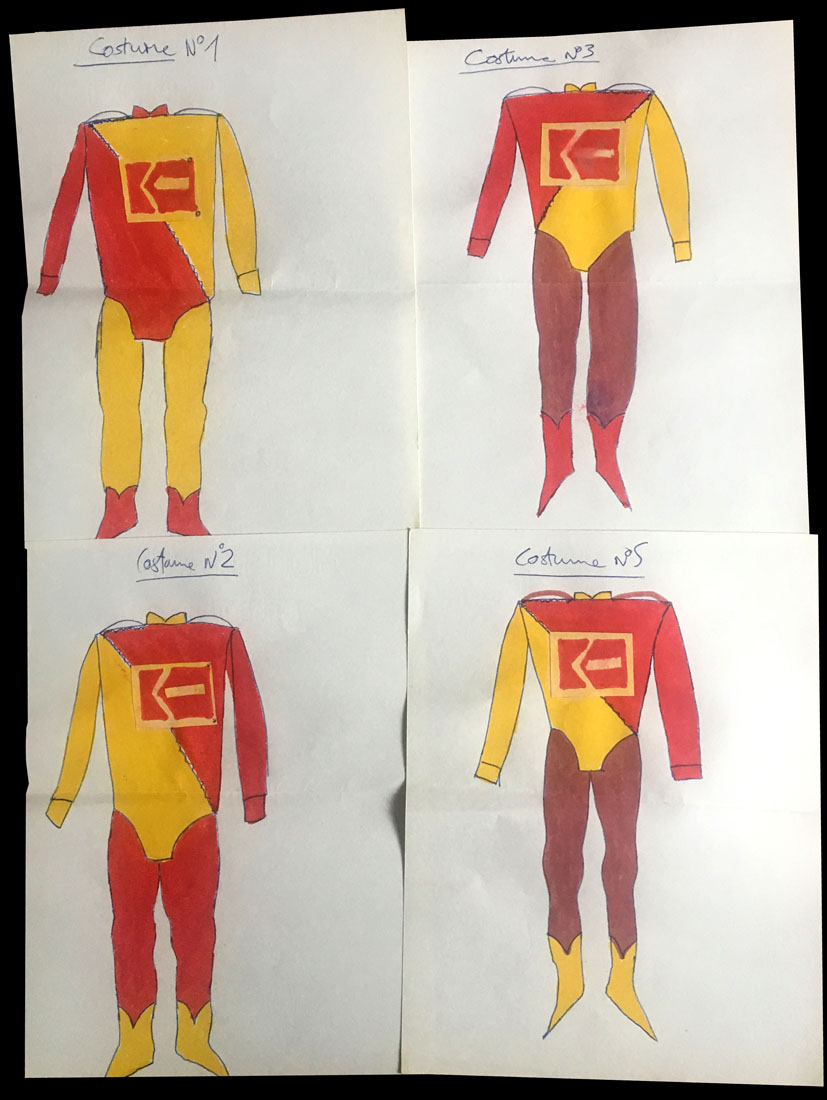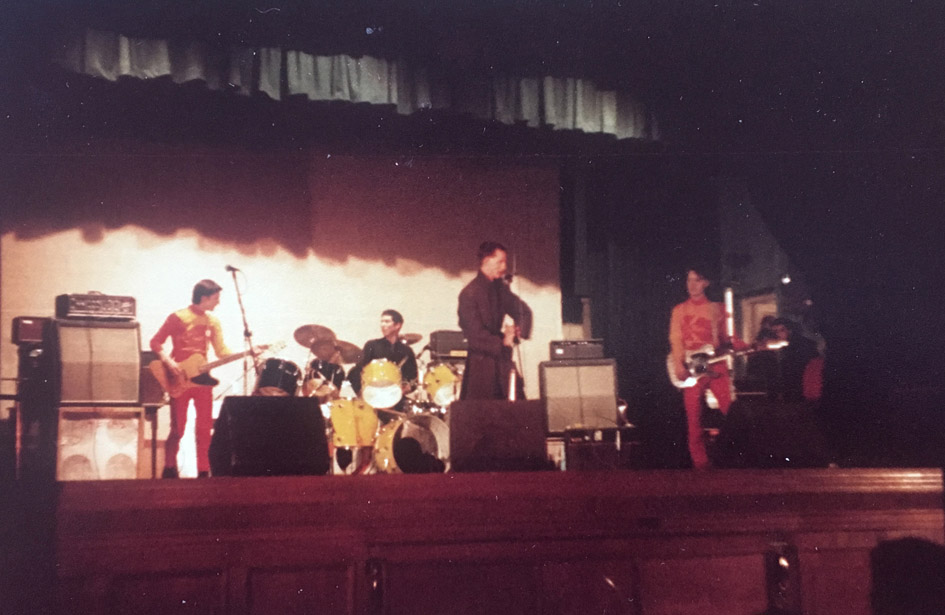 Strangely, in the fall of 79, as the Kameras were falling apart, my good friend Paul Humphries, still manager of the Monochrome Set, told me two very important things in the space of one week or so. First, the Monochrome Set have lost their bass player, so if you could agree to switch from guitar to bass, the band would be happy to have you as their new bass player ! OK, but i don't have a bass guitar or a bass amp, and switch to bass, i must think about it... A few days later, he comes to my house and say : " Phil, Siouxsie has just lost her guitar player, i think you can do it, i will arrange an audition, if it works out, i'll be your manager ". Of course i said OK, i just loved Siouxsie And The Banshees music, specially their first album " The Scream ". A week or so later, audition is being arranged, Paul passed me the guitar chords papers written down by Robert Smith from The Cure, who had stepped in on guitar when John Mc Kay left in the middle of a tour... Flashback : I take a morning bus to Putney where the rehearsal studio is. I enter the place, nobody in, all dark except a small light coming from a small room on a side. I walk up to it, it is a small kitchen, and who do i see ? Siouxsie, with short black hair, she's smaller than i expected, she tells me : " Do you come for the audition ? " I say yes, then she ask : " D'you want some tea ? " Again, i say yes, There is something very strange that happens when you meet your idols, face to face, not for an autograph, but to play music or work with them, something that has to do with what you think is reality...or dreams.
Anyway, to cut a long story short, I played for 3 days with Siouxsie, Severin and their new drummer Budgie, who replaced Kenny Morris, who had played on the first two albums. John McKay also played guitar on these albums, and, strangely, he left his guitars behind, two Gibson Lespaul, a white one and a black one. The guitar roadie ask me to make a choice, I pick the white one. As soon as i plug it into the amp and effects, the sound is here, we play songs from both albums plus the singles " Hong Kong Garden " and " The Staircase " for the next three days. One evening, after playing, we go to a pub in Putney, along the river, for a drink. We sit all four of us at a table, and Sioux says, i quote : " Oh, we've got a baby in the band " , meaning, i guess, that I was younger than all of them. Later that evening, she mentions Tony Visconti as the producer of their next record. Being a Bowie fan, i feel almost on top of the world, almost...Unfortunatelly, the last day we played, their manager, Nils Stevenson, who later got kicked out because he stalked Siouxsie, even at night in front of her house, came to the studio and after we went through a few songs, he asked us to play "The Lords Prayer" and for me to improvise on it... Apparently he didn't like what i did, because when i called him a week later, he told me they had decided to take John Mc Geoch, from Magazine, as their new guitar player, a good choice I must admit, considering the great albums they did with him later on. In the meantime, the Monochrome Set, hearing no reply from me, took Andy Warren, from Adam And The Ants, as their new bass player... I had gambled, I had lost, I spent one more cold and wet winter in my squat in South London, then I decided I had enough for now, got on a train, boarded a ferry across the Channel, and went back to the warm bed of my girlfriend Beatrice in Paris...
Back in old Paris,1980, I got a room in Montmartre, I joined for a few months the band SEDUCTEUR with Dominique Nicolas, later of French band INDOCHINE. Interestingly, hearing the clear sound i produced with my Fender Jaguar through an old spring reverb, he sold his crappy Gibson, bought a Fender Mustang plus an echo chamber and changed his sound ... Destiny
In 1981, I form the band Panoramas, with my good friend Jef Gondek on bass, we play gigs at the Rose Bonbon, le Musée Grévin, the Olympia and around Paris, we get signed by the label Polydor, we record a 4 tracks maxi single, one of the songs " Amanda " becomes a kind of cult classic of electro-pop, Steve Strange from Visage plays it in its Club For Heroes nights in London and in NY. In 1983, Polydor terminates our record contract due to " personal misunderstandings ", we have enough songs for an album, and although the maxi-single plus the singles have sold 13000 copies, a very good start for an unknown band, nobody wants to touch us in Paris, not a single record company, mystery...

I play sitar on the LP of the Bonaparte's "Welcome to the Isle of Dogs" and few years later, thanks to my longtime friend Lucas Trouble, i record two albums on his label Nova Express, under the name Electric Karma : "Lotus Moon Factor 9", recorded in 1992, released in 1997 "Neon Sunrise", released in 2004, then I also played the guitar in My Concubine Eric Falce's band, ex-Tango Lüger. Jasper Stainthorpe, the Kameras bass player, joined in 1986 the band Then Jericho, they had a big success in England with their first two albums, " First ( the Sound Of Music ) "in 1987, and " The Big Area " in 1989, they even entered the British charts. Jasper left Then Jericho at the end of 89, and returned with them for two years, mostly for tours, in 2012 and 2013.
Philippe Siegfried, April 2019.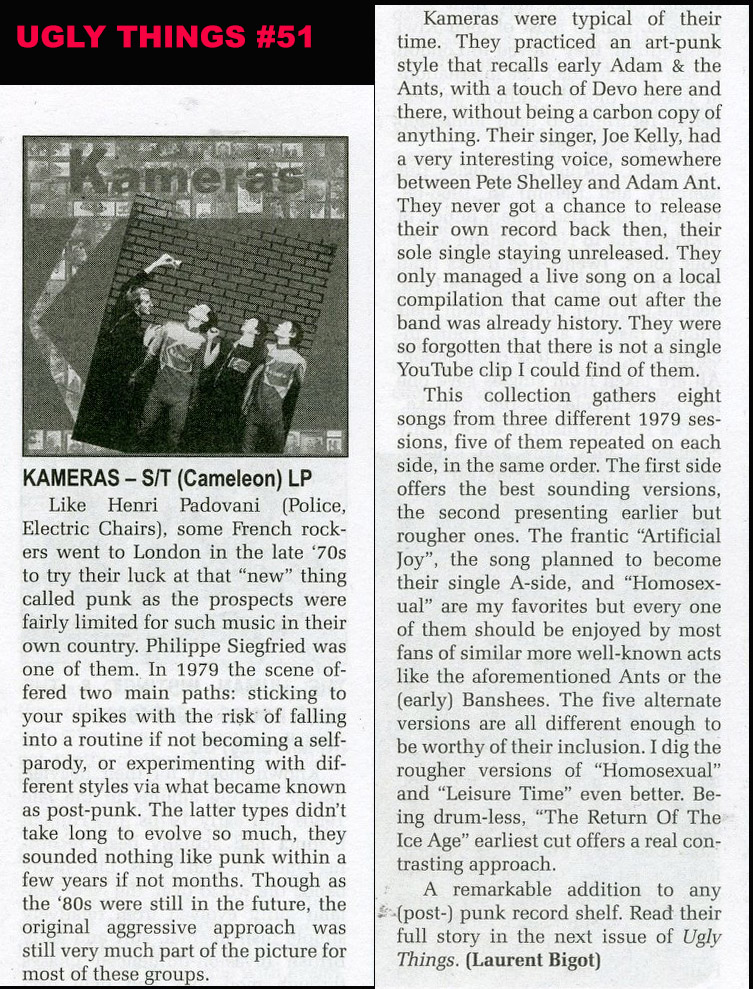 SOLD OUT